Our final video for Sednaoui this week is: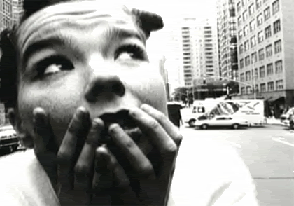 Big Time Sensuality, by Björk
The featured video marks what began as a great friendship between Sednaoui and the then new solo artist, Björk. In the video, Björk dances and sings on the back of a truck as it drives through New York City. The charm of the video relied heavily on the energetic actions and facial expressions of Björk, which ended up being a video still remembered by her today.
To view the video:
Video on Björk.com
For more information on the video:
Björk.com: Big Time Sensuality
For more information on Björk:
Official Site
Be sure to comment and rate the video!:D
That's it for Sednaoui's week. :) We'll featured another of his videos after the next week, to conclude our entire spotlight. Today, Sednaoui has remained a memorable figure in the realm of music videos, and still photographs as of today. Let's hope we hear from him, soon :D
Tomorrow we'll start our last director spotlight!